All About Steel Garden Edging
Steel garden edging is one of the most exciting ways to embellish your shrubberies. It is strong, elegant, yet understated and timeless. Corten weathering steel garden edging is a major option to transform your boring home garden into a magnificent and functional one.
Is steel garden edging right for your garden? Continue reading!
What is Corten Weathering Steel?
Weathering steel also known as COR-TEN (commonly written with the hyphen as corten) steel for its genericized trademark. It is a group of heavy-duty steel alloys developed to withstand any weather condition. The U.S. Steel Corporation owns the registered COR-TEN trademark name. The reason why it is called COR-TEN is due to its corrosion resistance and tensile strength properties.
The U.S. Steel Corporation developed and patented COR-TEN steel in 1933. They have developed this special steel that can withstand strong mechanical impact or any weather conditions. It is primarily used for railroad hopper cars, heavy bulks of metal ores, coal or grain, and other mineral products.
With its exceptional toughness, it has become as one of the most significant steels across various industries. In 2003, USS sold its discrete plate business to International Steel Group. However, they are still selling the COR-TEN branded in sheet forms and strip-mill plates.
Why Is It Called Weathering Steel?
Weathering is the chemical composition of these steels that makes them durable and resistant to atmospheric corrosion compared to other steel types. The steel has a protective layer that shields them from these elements. Its rusty appearance is one of the characteristics of this steel. Surface oxidation (rust) will appear after several exposure to weather as it acts as the protective coating.
Additionally, the mechanical characteristics of weathering steels depend on the type of alloy used as well as the thickness. Included in the types of weathering steels are ASTM A242, ASTM A588 and others. Each one of these does have its individual distinctive qualities that make them perfect for any structures.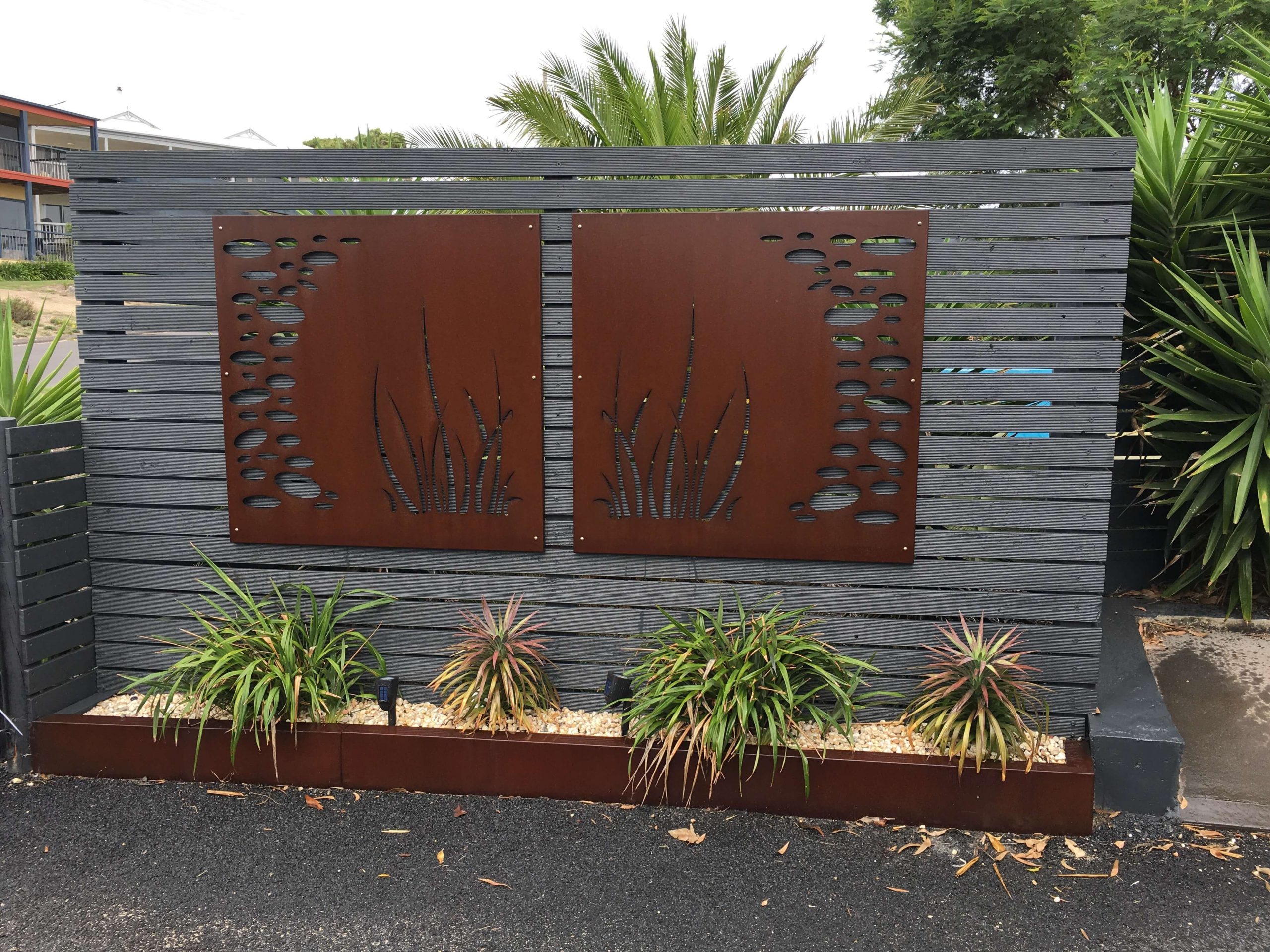 What Are the Uses of Weathering Steels?
Weathering steel is mostly used in outdoor sculpture, particularly in parks, museums, building facades, and art gardens. It is also a trendy material for architectural applications like bridges, marine transportations, intermodal containers, sheet pilings, and a lot more.
What are Its Disadvantages?
Using these types of steel also presents several challenges, particularly in the construction industry. To ensure that all weld-points will have the same weathering rate, it may require distinct welding materials and techniques.
Even though weathering steel is know for its characteristics to last for years, if water accumulates in pockets or areas of the steel, it may rust and corrode earlier as expected. This is the reason why installing drainage is encouraged.
Advantages of Steel Garden Edging
With so many uses and advantages of corten steel, even homes are now using it as part of their landscaping purposes. Let's find out more why:
• Prevents movement of garden materials like mulch and gravel
• Creates a flawless separation between driveways, paths, grass, and garden beds using minimal space and minimizes visual distraction.
• It will not crack, rot, chip, or become brittle over time.
• It can sustain damage from any garden maintenance utensils.
• Stays put, preventing ground movement usually happened during extreme weather conditions like frost heave or excessive rains.
Why Corten Weathering Steel is Good for Garden Edging?
With all sorts of metals in the world, weathering steel is widely preferred by many landscapers or in any other industry. As compared to aluminum, even though it has a thin characteristic, it can hold its shape and pushes back against ground movement and eroding earth. Weathering steel isn't easy to bend under any pressure.
What makes this material magnificent is it will corrode, but at a very slow rate. As a matter of fact, it may take 30-40 years before it completely rusts. Its rusty and antique look makes it's more appealing when you have it in your garden whether it is in your home or maybe an outdoor restaurant. Corten weathering steel is definitely a perfect one.
Installing a Steel Garden Edging?
Steel garden edging is available in long strips (2.4-3 meters) with overlapping connections. It has a standard height that ranges from three to five inches in height, but it would depend on how much length and size you prefer.
To achieve the stability, it is ideal to contain the creeping grass roots and submerge the metal edging at least two to three inches. This is an essential method to ensure that it can retain sufficient amount of gravel or mulch.
When installing, it is very significant to check the soil first. If the soil is soft, then, it would be best to use a wood block at the top of your edging to achieve the needed depth. On the other hand, in case of hard soils, you'll need to dig a trench for you to bury the edging. There are also metal edgings with built-in slots or anchors for you to insert and install them efficiently and fast.
Handling metals aren't easy, especially if you don't have the right tools and equipment for such a task. It is always best to consult the professionals who can take care of these jobs. At [Company Name], we are your trusted contractor for any steel garden edging jobs.
Undeniably, the aesthetic value of a steel garden edging is incomparable. It can significantly transform the overall ambiance of your garden. This is something that you need if you want to have clean and organized pathways as well.
We offer top-notch steel garden edging services for residential and commercial properties in Melbourne. Our highly-skilled and experienced steel edging professionals will be there to help you make that dream into reality.
With our Corten steel material for garden landscaping and edging, expect that you can have the best metal that can withstand pollution, has the best yield strength, and can perfectly transform your garden into a magnificent space.
Call us now at (03) 9720 2653. Our proficient and friendly fleet of professional contractors are always available to assist in ensuring your garden project is a successful one.