3 Most Common Types Of Angle Grinder
Grinders are an amazing power tool, essential for any metal fabricators arsenal of tools. Angle grinders are used across so many different trades and projects, from metal fabrication to carpentry. We look at the three most common types of Grinder used today. Grinders of different power source have different applications, as well as grinders using different grinding discs.
What Is An Angle Grinder?
An angle grinder is a handheld power tool that can be used for a variety of metal fabrication jobs that include cutting, grinding, deburring, finishing and polishing. The most common types of angle grinders are powered by electricity; either corded or battery powered.
It's the most versatile tool in the box and should be a staple of any shed or workshop but we aren't just saying that because they work perfectly with many different discs.
An angle grinder with the right disc can replace numerous tools and make the most tedious, labour intensive jobs quicker and easier. Perfect for sanding, cutting, shaving, trimming and moulding steel into shape.
Better yet, they are easy to control and any novice with the correct safety precautions can pick up a an angle grinder and start working. However, they are highly powerful tools and should be used with caution, in Australia, many work sites ban the use of the powerful 9 inch grinder, due to its supreme power and possible danger to a novice.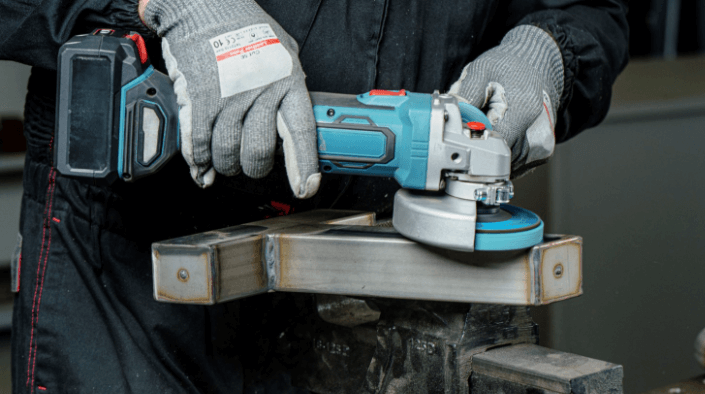 Different Types Of Angle Grinder
Cordless Angle Grinder
Cordless angle grinders are hand-held battery operated tools used in a wide range of industries. These versatile machines can be found in a vast array of applications, from metal fabrication, plumbing, trade, DIY and many more. Powered by inter-changeable and re-chargeable batteries, cordless grinders mostly come in 115 and 125mm sizes, with maximum speeds of up to 9,000 rpm.
Powered by re-chargeable battery packs, cordless grinders give the user more freedom and mobility, however these advantages are weighed against limited performance and usage life. If you're using a grinder for long periods at a time, cordless machines probably aren't the right choice for you. If, however, you're working in remote areas, multiple sites, or just have a quick job to do; a cordless machine will offer you both freedom and practicality.
Highly practical cordless angle grinders are used across a variety of worksites. These grinders can be transported to different areas without the need for connection to power outlets. Cordless grinders are particularly helpful when it comes to the performance of ladder and scaffold-based grinding tasks as users have no need to worry about the trip hazard posed by trailing wires. However, it is advised to choose models with high capacity batteries to avoid the concern of regular mains power connection.
Many users are embracing the freedom of cordless machines, being able to work anywhere without the need for potentially hazardous and awkward extension cords.
Whilst battery life and power are still significant barriers to some users, battery technology is rapidly improving and cordless machines are increasingly coming up to speed with their corded counterparts.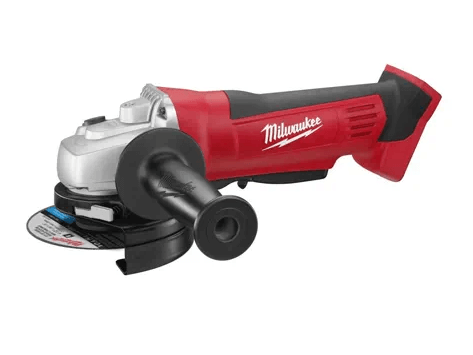 Corded Angle Grinder
The assurance of connection to a reliable power outlet will be required in some instances as it is possible to use corded angle grinders as long as they are connected to the power supply. Corded angle grinders are also typically of a lighter weight than cordless alternatives. If you are going to be using your grinder on a regular basis for minor cutting jobs, then you should opt for a model featuring a small disc. You should also account for the ergonomics and level of vibration specific to your chosen grinder.
There is no doubt about it, corded grinders are powerful and extremely handy if you are set up and ready to go, but in emergency situations, you may be miles from a power outlet and have no generator or no fuel. I suppose a corded grinder is great for a workshop but can cause issues out in the field or on site.
For those little on the go grinding jobs, a battery grinder is perfect, but for long drawn out heavy grinding tasks, a corded grinder is the tool for the job. Also, we love that power.
Air Powered Angle Grinders
The biggest difference between air-powered tools and electrical tools is obviously what powers them. With pneumatic tools, you get a tool that is a lot more durable than electrical (think years versus months). Also, pneumatic tools are safer because they don't heat up as easily and there is no risk of a short circuit.
Offering the ideal blend of performance and durability, pneumatic angle grinders are ideally suited to cutting and shaping metal workpieces. They are primarily used for light-duty jobs, requiring high levels of precision. Pneumatic grinders require connection to suitable air compressor units, however, they are well-suited to high-precision tasks and are considerably lighter in weight than other angle grinder models. Additionally, some come complete with throttle levers, which allow for a high level of control in the performance of technical tasks such as feather edging and speed grinding.
Here's a rundown of the most common uses of air angle grinders depending on the discs attached:
Grinding: gentle pressure at an angle will smooth the material to perfection. It includes tasks as surface preparation and material removal.
Cutting: smaller sized wheels are used for precision pipe or metal cutting.
Sanding: angle grinders are a perfect choice for woodwork.
Deburring: the pestilent burrs or material leftovers are easily dealt with by air grinders.
Chamfering: wheels can also be used for making bevels and grooves.
Weld removal: smoothing the welded joints is another common use of angle grinders.
Angle grinders are measured by the size of the wheel they use. Common sizes are between 4 and 12-inches. Pneumatic angle grinders are available in smaller wheel sizes down to 2-inches. Because pneumatic angle grinders come in smaller sizes they are ideal for use in projects located in small and tight areas. Hard to reach places are no match for a small pneumatic angle grinder.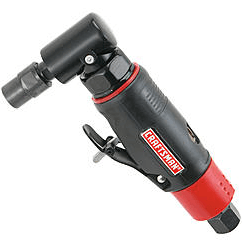 Difference Between an Electric Grinder and a Cordless Grinder Chart
Best Angle Grinder Brands
Some of the most popular brands include:
Dewalt
Makita
Bosch
Hitachi
Black + Decker
Milwaukee